The Fascinating Dearheart Story
The Dearheart story is truly a fascinating one! It all started with a woman named Jeanne Ramsdale, who is considered by many to be the authority of her time on the Persian breed. Jeanne Ramsdale was a famous American breeder of Chinchilla Persians (Also called Silver Persians) under the prefix-or cattery name- Dearheart.
Her cats were magnificent and stand out to this day for their exceptional beauty and elegance. She was married to a Doctor of Veterinary Medicine Philip N. Ramsdale. Jeanne Ramsdale and her husband lived in Long Beach, California where she authored many books in which she detailed the proper care and breeding of the Persian breed. Probably her best, and well known book in my opinion is "Persian Cats & Other Long Hairs" from 1976. Unrivaled in its wealth of information, anything you could want to learn about Persians is in this book.
The Dearheart variety has many unique traits that are specific to this bloodline. Some of which include striking emerald green, to a turqoise blue eye color with black lining that looks like eye liner or mascara. In fact Silvers, and Goldens have the only blue-green eyes in the Persian cat world. They look as if they are always smiling in contrast to the flatter faced (extreme face) modern Persians. Their noses have a black lining, with a brick red center looking almost like a heart shape. The padding on their feet is a solid black coloring as well. They possess a unique mixture of Angora and Persian hair that gives a silky, translucent quality to the coat. They also have a very distinctive meow unlike the typical feline sound. It could be described as between a raspy purr, and the sound a Racoon would make.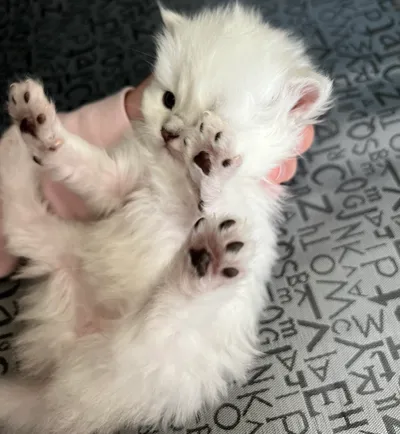 Yet another special trait that differentiates them from the more modern Persians is that they don't have nearly the problems with tearing, staining, nasal, and breathing problems that afflict the flatter faced Persians that occurs from over breeding.
Dearheart Persians have among the most social, loving, and attention seeking personalities. They have more of a "puppy personality" in that when they see you arrive home many times they will greet you at the door. And don't be too surprised if they take up a spot in your bed at night.
Arguably the biggest claim to fame for the Dearheart bloodline is that they are now used in the newest Fancy Feast commercials on television around the world. Thanks to Diane & Firenza Amble the Dearheart Bloodline has truly reached its pinnacle. We too are honored to join in this journey to help preserve the beautiful and rare Dearheart bloodline. Our Chinchilla silvers and shaded silvers are L'Dearheart Persians!
Silver Chinchilla Persian Kittens! Expecting babies soon!
L'Dearheart Silver Chinchilla Persians
Perfect Persians is dedicated to continuing this beautiful, special Persian bloodline, and to place them in loving, wonderful homes. Our L'Dearheart silver Chinchilla Persian Kittens have a sweet, playful, and very loving personality that will touch your heart the minute you hold one of them. They come from the famous Dearhreart Persian bloodline featured on the Fancy Feast commercials, and in fact, our kittens are the Grandchildren of one of the featured Cats in "The Engagement" Fancy Feast commercials. These particular Chinchilla Persians come from Champion Blood lines. We specialize in Chinchilla Silver and Shaded Silver Persian Kittens. They are raised as part of our family and have the run of the house. We produce only a few litters each year, and are very selective in finding our kittens the best homes. They each are immunized and checked for their wellness by our Veterinarian before leaving to their new home. Dearhreart Persians are adored for their elegant full coats, expressive faces, gorgeous bright brilliant eyes, and sweet personalities. Silver Persians are special companions unlike any other breed of cat. They thrive on having a close, loving relationship with you. Once you meet an L'Dearheart Persian, it will be instant love, and a pure love that will last many, many years to come!
These beautiful kittens go fast! contact us today to reserve your fur-baby or get on our waiting list!!!